A10335 3.5 GHz 5G Coexistence BAW Filter
Akoustis' A10335 is a high performance, ultra-small bandpass BAW RF Filter for use in 5G infrastructure applications covering 300 MHz of 5G n78/77 band. A10335 utilizes Akoustis' patented, XBAW technology which provides leading RF filter performance. This BAW RF filter provides low insertion loss and meets the stringent rejection requirements enabling coexistence with 4G LTE and 5G bands. This device exhibits high-power handling capabilities necessary for demanding power requirements of the latest 5G infrastructure requirements. A10335 uses standard hermetic sealed ceramic packaging and is compatible with high volume, lead-free SMT soldering processes.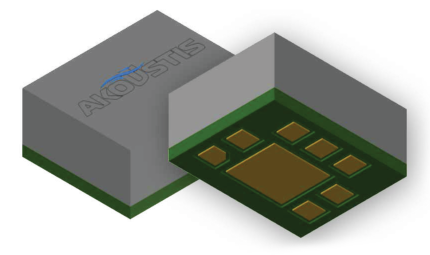 Features
Small form factor 2.5mm x 2.0mm x 0.8mm
Single ended Tx/Rx ports.
High rejection enables coexistance with adjacent 4G LTE & 5G bands
High power rating, maximum +30 dBm
Low insertion loss passband filter
Performance over -40 C to +85C
RoHS compliant